Sunday, March 23rd, 2008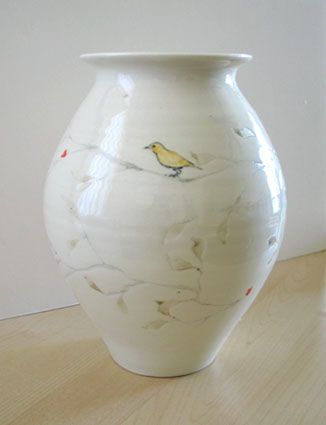 We love this beautiful vase by Yuichiro Roy Kunisaki, purchased just last year at the picturesque Angels Gate Cultural Center in San Pedro, Ca., where Roy thrives in his studio. He is hands-down the hardest working studio artist on their premises with a vast collection of work like no other California potter. This vase stands about 8 inches high and we don't only love it because it had a bird in it. It's a stunning work of pottery.
Roy is Japanese born, and attended Cal State University Long Beach from 1994-1997. He has been working at Angels Gate since 1998 and his work sells like hotcakes at every open studios tour. He has mastered a brush technique inspired by nature, cycles of aquatic ecosystems, Japanese ethnicity and California life style. He also teaches workshops at different cultural centers all over California.
Here's a link to an interview with him at Angels Gate Cultural Center.
Roy has exhibited with Little Tokyo Clay Works, The Craft and Folk Museum, The Folk Tree, FT Art Gallery, and Icaan Gallery.
Here is a great video of Roy making one of his larger porcelain vases: